A unit of French energy giant TotalEnergies has completed its first LNG bunkering operations to two new dual-fueled vessels owned by Maran Tankers, the oil tanker unit of Greece's Angelicoussis, following bilateral short-term supply deals struck on the spot market.
On August 23, TotalEnergies Marine Fuels supplied 2,700 metric tons of LNG to Maran Tankers Management's VLCC, Maran Danae, via the 18,600-cbm LNG bunkering vessel, Gas Agility, in Rotterdam, according to statement by the marine unit of TotalEnergies.
This LNG bunkering operation followed Gas Agility's supply of MTM's dual-fuel VLCC, Antonis I. Angelicoussis, with 2,700 metric tons of LNG in July.
TotalEnergies charters Antonis I. Angelicoussis from MTM.
Maran Danae and Antonis I. Angelicoussis are among four new dual-fueled VLCCs that MTM took delivery this year.
In January, MTM took delivery of the LNG-powered VLCC, Antonis I. Angelicoussis, the second vessel, Maria A. Angelicoussis, in February, while the third vessel, Maran Danae, joined the fleet in April.
The latest vessel, Maran Dione, joined the company's fleet in July.
MTM claims the vessels emit 42 percent less carbon dioxide than an equivalent 10-year-old VLCC.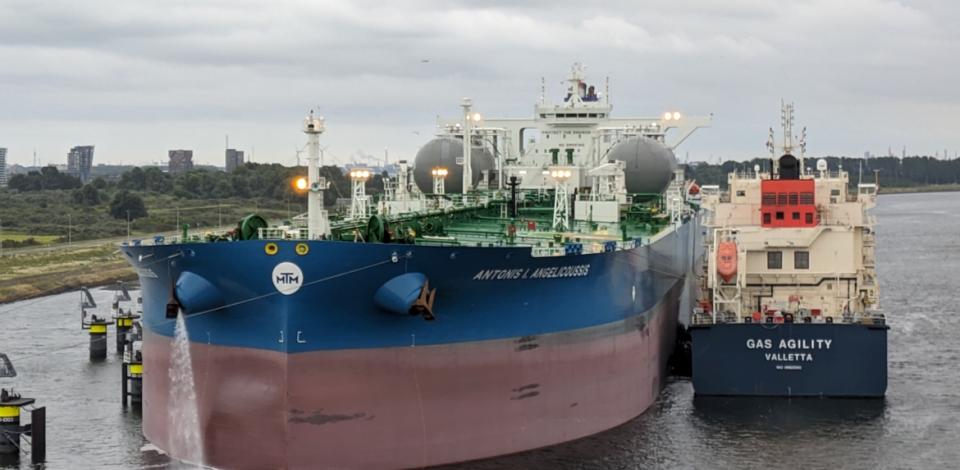 More than 200 LNG bunkering operations
"We are pleased to build on our longstanding partnership with Maran Tankers Management and to support the Angelicoussis Group's decarbonisation goals with these inaugural LNG bunker operations," said Oğuz Önalan, general manager of bunker trading and operations for Europe and Africa, TotalEnergies Marine Fuels.
"Importantly, the operations demonstrate TotalEnergies Marine Fuels' ability to serve a broad spectrum of the market's needs promptly and flexibly through our supply network, whether by fulfilling long-term contracts or providing short-term market-sensitive solutions," he said.
The company currently charters two 18,600-cbm LNG bunker vessels: Gas Agility, at the port of Rotterdam, Netherlands, and Gas Vitality, at the port of Marseille-Fos, France.
Since the start of TotalEnergies Marine Fuels' LNG bunkering operations in November 2020, these two vessels have performed over 200 LNG bunkering operations, according to the firm.