France's TotalEnergies, one of the world's largest LNG players, said it had acquired Poland's main biogas producer, Polska Grupa Biogazowa (PGB), and a 200-megawatt development pipeline of solar projects.
TotalEnergies did not reveal the prcie tag of the deal in a statement issued on Monday.
With 130 employees in nine Polish regions, PGB is mainly involved in generating renewable heat and power from biogas sourced from organic waste, according to the firm.
PGB owns and operates 17 facilities in production and one under construction, for a total power generation capacity of 166 GWh per year.
Also, PGB's portfolio includes a development pipeline of 23 projects, it said.
TotalEnergies is also entering the Polish solar market with the acquisition of six solar projects under development representing a production capacity of 200 MW.
Located in northern and western Poland, the first solar farms are expected to come on stream by 2025, the firm said.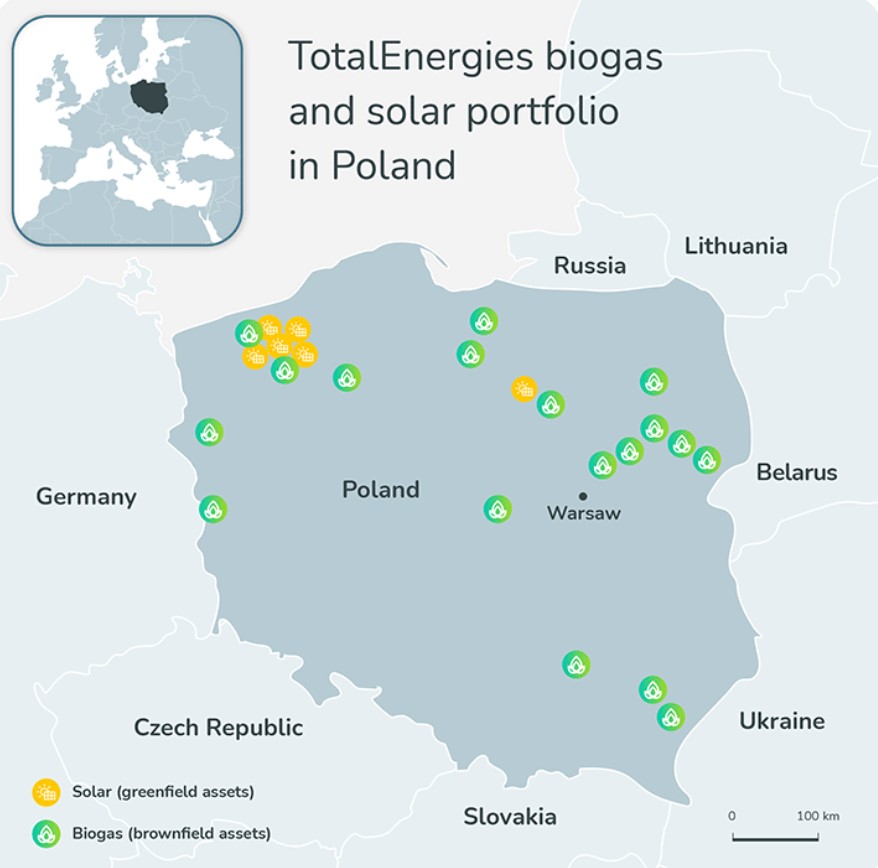 Boosting biogas production
The acquisition of PGB gives TotalEnergies a "leading position in the promising Polish market, which represents Europe's fourth-largest potential for biogas and biomethane production, estimated at close 100 terawatt-hours (TWh)," according to the firm.
TotalEnergies is one of the segment leaders in Europe, with now 1,1 TWh of biogas production capacity, and aims to become a major player internationally by partnering with market leaders such as Clean Energy in the US, it said.
The company is active across the entire value chain, from project development to marketing of this renewable gas and its by-products (biofertilizers, bioCO2), TotalEnergies said.
TotalEnergies said it aims to produce at least 20 TWh per year by 2030, which represents the average annual gas consumption of four million French consumers, and a reduction in CO2 emissions of around four million tons.
LNG giant Shell also recently completed its deal worth nearly $2 billion to buy 100 percent shareholding of Denmark-based biogas producer Nature Energy Biogas.
Shell said the acquisition will add new volumes and support its efforts to transition its growing European LNG customer base to bio-LNG, with supply intended to span road, marine, and other customers.
TotalEnergies is also building a network of LNG filling stations for trucks in Europe and is supplying LNG as fuel to containerships and other vessels.