French energy giant TotalEnergies and cruise operator MSC Cruises, a part of MSC, have completed the first LNG bunkering operation in the Port of Marseille Fos as part of a deal the two firms signed in March 2021.
TotalEnergies Marine Fuels, a unit of TotalEnergies, said in a statement that its chartered LNG bunkering vessel, the 18,600-cbm Gas Vitality, refueled the MSC Cruises vessel, MSC World Europa, via a ship-to-ship transfer of 2,500 cbm of LNG at the port on April 22, while guest operations continued as normal.
The operation marks the start of the previously announced LNG bunker supply contract between TotalEnergies and the cruise division of MSC, as the companies drive forward their respective decarbonization plans.
Under the agreement, TotalEnergies Marine Fuels will supply about 45,000 tons per year of LNG to MSC Cruises' vessels at Marseille.
"We are excited to support the cruise division of MSC Group in their decarbonization journey and to help the Port of Marseille Fos become an LNG bunker hub for the Mediterranean region," Philippe Charleux, senior VP lubricants and apecialties at TotalEnergies, said in the statement.
"This operation also expands our LNG bunkering capabilities to the cruise ship segment, demonstrating our ability to serve a broader range of shipping clients, as the industry strives to reduce emissions," Charleux said.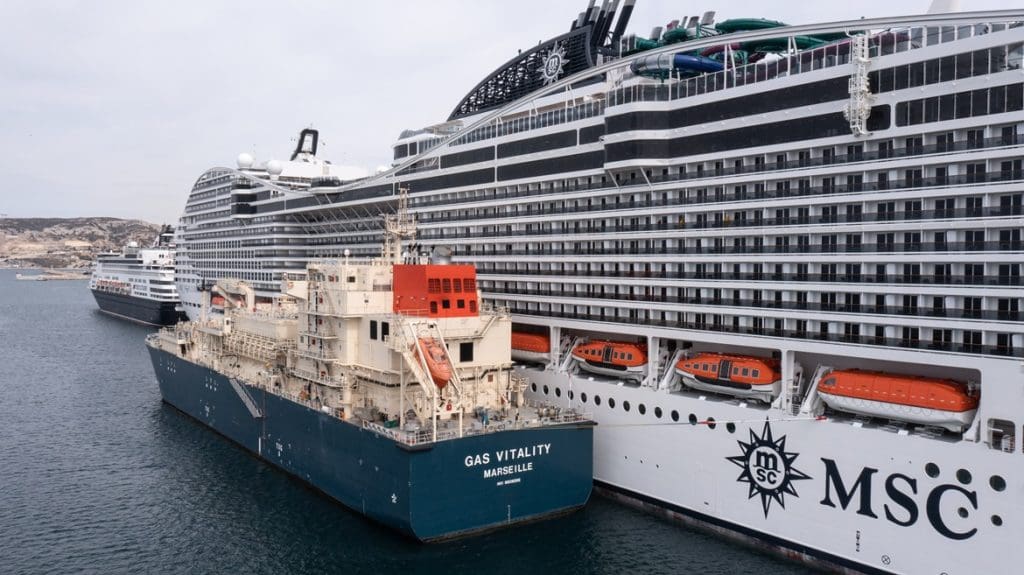 Fraance's Chantiers de l'Atlantique delivered MSC Cruises' first LNG-powered vessel, MSC World Europa, in October last year.
The 333 meters long MSC World Europa recently started sailing its first summer season in the Mediterranean.
Besides this ship, MSC Cruises will take delivery of its second LNG-powered cruise vessel, MSC Euribia, from Chantiers de l'Atlantique on May 31.