Elenger's first LNG bunkering ship is finally ready to start work in the Gulf of Finland, serving both vessels and smaller shoreside customers.
Dutch shipbuilder Damen said in a statement on Monday it has delivered the 6000-cbm LNG bunkering vessel named Optimus to Elenger, part of Infortar.
LNG Prime reported on this vessel in April this year after the vessel left China. Damen's Chinese yard in Yichang launched the 100 meters long ship in September last year.
However, Elenger did not take delivery of this ship then as it still had to complete trials.
The LNG bunkering ship arrived from China to Rotterdam in June this year, according to its AIS data.
We have previously contacted Elenger for additional information, but we did not receive a reply.
According to Damen, the vessel completed its gas trials in Damen Verolme Rotterdam shipyard, before delivery to its owner Infortar.
Elenger, the new trademark introduced by Eesti Gaas for its export markets, charters the vessel, Damen said.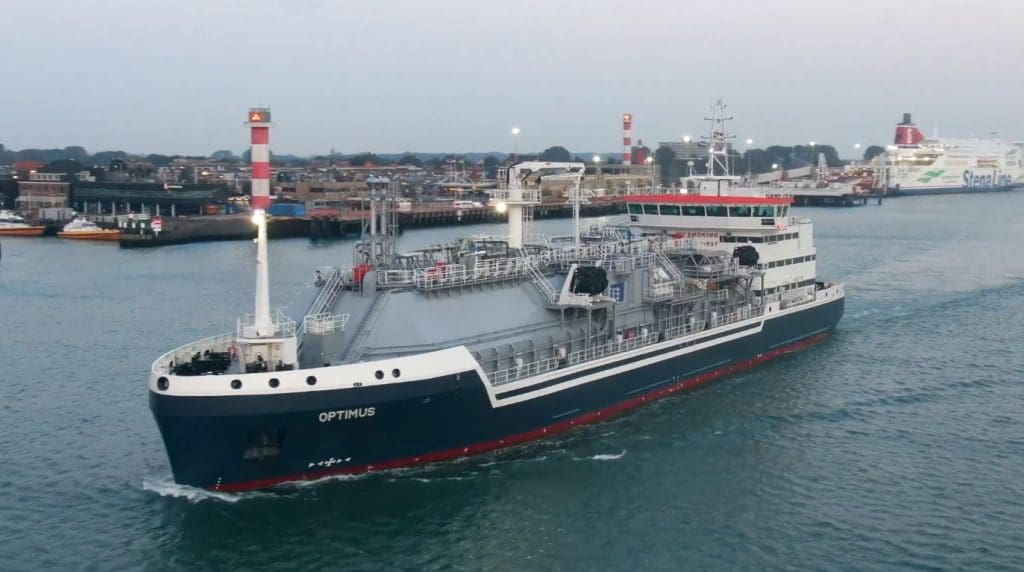 The dual-fuel vessel is the first of Damen's new class of 6000 LNG bunkering vessels. It has the capacity to transfer up to 1000 cbm/h of LNG via a ship-to-ship method, according to Elenger.
It also has an ice-class 1A notation allowing it to operate in difficult ice conditions.
Boosting Baltic LNG bunkering
With the addition of the first LNG bunkering vessel, Elenger will significantly expand its LNG distribution business in the Baltic region.
The firm has been supplying liquefied natural gas to Tallink's LNG-fueled RoPax ferry Megastar using multiple trucks. Tallink is also part of Infortar.
Also, the Megastar will be one of the first beneficiaries of the arrival of Optimus, followed in spring 2022 by Tallink's new LNG-fueled RoPax ferry MyStar, the statement said.
Elenger also has pre-agreements in place with other clients operating cargo and container vessels, tankers and cruise ships, among others, it said.
The European Union, under the Connecting Europe Facility (CEF) program, provided part of the investment for the construction of the ship. Finland's OP Financial Group co-financed the construction as well.