Furetank's new LNG-powered tanker Fure Viten has completed a bunkering operation in Malaysia as part of its maiden voyage to Europe.
To remind, Sweden's Furetank took delivery of the dual-fueled product and chemical tanker at China Merchants Jinling Shipyard in June.
The Petronas-chartered Avenir Advantage bunkered the newbuild vessel in the port of Pasir Guadang, Malaysia, according to Dutch LNG supplier Titan LNG.
Titan said it has joined forces with Petronas to complete the LNG fueling operation on July 15.
Furetank's vessel has two small LNG tanks with a total capacity of 600 cbm meaning the vessel took only a small cargo from the 7,500-cbm Avenir Advantage.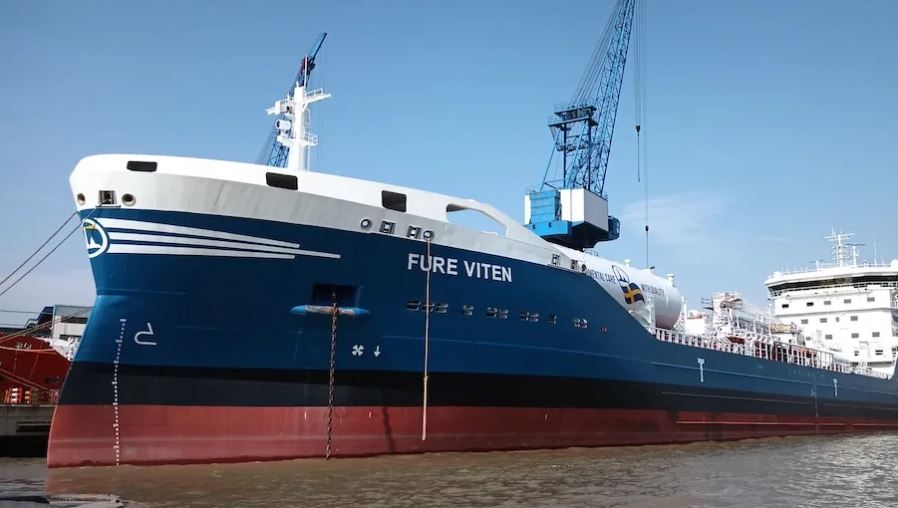 The 16,300 dwt medium-sized tanker with a load capacity of 20,300 cubic meters features Wartsila LNG propulsion but also battery backup.
It is the eighth and final FKAB-designed ice-class ship Sweden's Gothia Tanker Alliance had ordered at China Merchants Jinling Shipyard.
Moreover, they are all 149 meters long and 22.8 meters wide.
Furetank owns four and commercially operates all of these vessels.
Recently, the Swedish shipowner also said it was in negotiations to secure biogas for its fleet of LNG-powered product and chemical tankers as it looks to further slash emissions.