Liquefied natural gas (LNG) deliveries to Greece's Revithoussa terminal rose 4.1 percent in the January-June period of this year, according to DESFA.
The shipments in the first half totaled 17.3 terawatt hours, or 26 tankers, the Greek gas grid and LNG terminal operator said.
This compares to 16.61 TWh in the first half of the last year.
In the first quarter of this year, the shipments totaled 9.51 TWh, or 13 tankers, meaning that the imports in the second quarter were at 7.79 TWh, or 13 tankers.
Greek LNG imports via the Revithoussa terminal surged to record 78 LNG cargoes in 2022 due to significantly higher volumes from the US, while the facility is fully booked for 2023.
US remains largest supplier
The US remained the largest LNG supplier to Greece with a 41.3 percent share of all LNG imports in the period under review, DESFA said.
The deliveries from US liquefaction plants to Greece reached 7.16 TWh in the period, down 27 percent compared to 9.79 TWh in the same period last year.
Russia ranked second with imports of 3.17 TWh, followed by Egypt with 3.02 TWh, Algeria with 2.48 TWh, Norway with 0.97 TWh, and Spain with 0.51 TWh.
DESFA said that 55.5 percent of all imported gas to Greece in the first half, including pipeline gas, came via the Revithoussa terminal.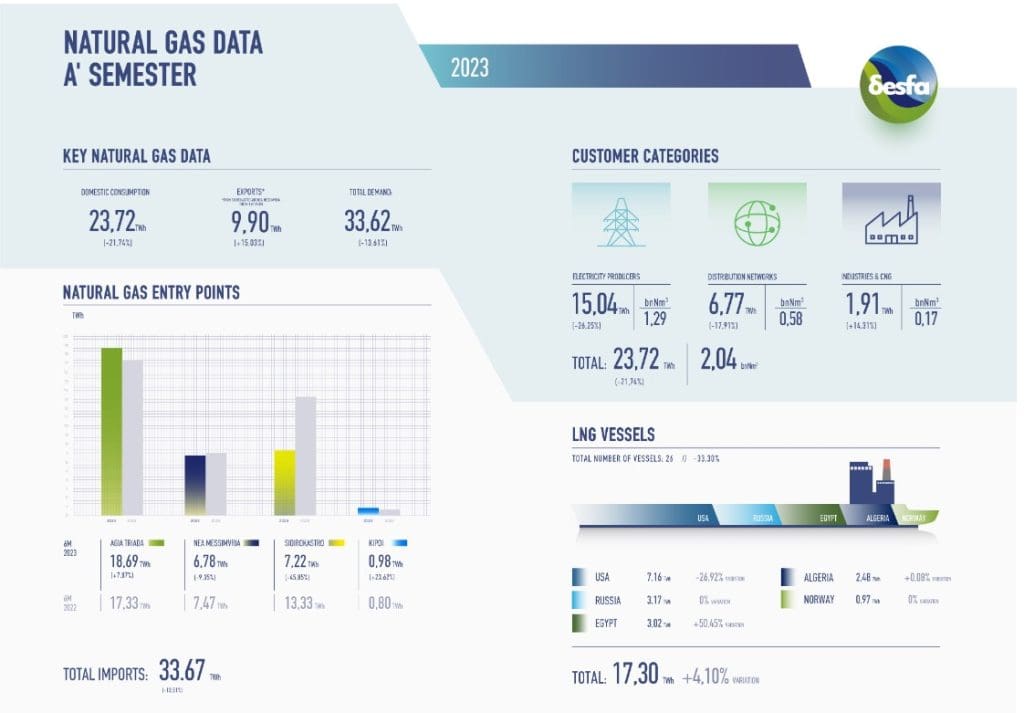 Total gas imports amounted to 33.67 TWh, a drop of 13.5 percent from the same period last year.
DESFA said the domestic consumption of natural gas decreased by 21.7 percent, reaching 23.72 TWh in the first half of this year.
However, exports remained at high levels and amounted to about 9.90 TWh, marking a 15 percent increase compared to the last year, it said.