France's Total said Wednesday it aims to take a final investment decision on the Papua LNG project in Papua New Guinea in 2023.
The announcement follows a meeting by Total's CEO Patrick Pouyanne and a delegation led by PNG's Deputy Prime Minister Samuel Basil.
The officials held the meeting in Paris on May 3 to "review together the next steps for the development of the Papua LNG project," the energy giant said in a statement.
After a year of delay because of Covid-19, Total, as operator of the Papua LNG project, said it has started the remobilization of the project teams and of other required resources.
According to Total, the objective is to launch the FEED in early 2022 but also to prepare for the FID in 2023.
"I confirm that this project is ranking very high in Total's portfolio given its proximity to growing Asian LNG markets and we will dedicate all necessary resources," Pouyanne said.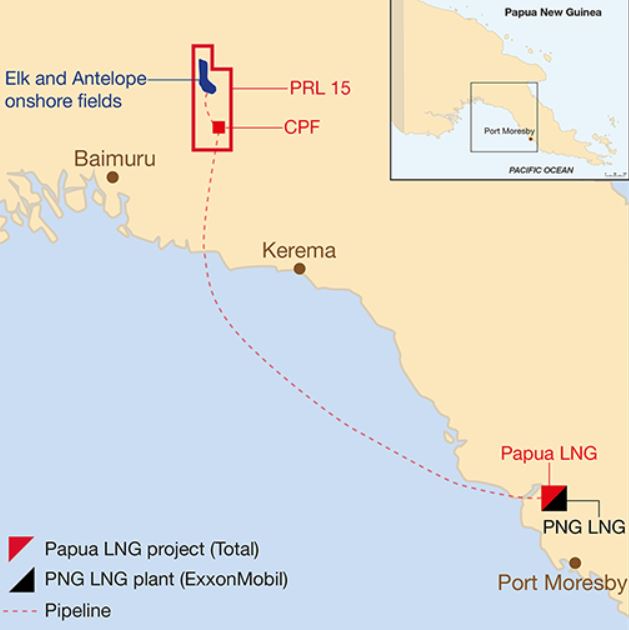 Two new units at existing PNG LNG facilities
This development follows the signature of the fiscal stability agreement but also the award of the license extension in February this year.
Total is developing the proposed 5.6 million tons per annum project with partners ExxonMobil and Oil Search.
Previously, the partners planned to develop Papua LNG with an expansion of ExxonMobil's PNG LNG adding three new production trains at the existing Caution Bay plant.
Under the deal signed in February, the partners plan to build two new production units at the PNG LNG site.
Papua LNG project will target the production of the two main discoveries of Block PRL-15, Elk and Antelope.
Furthermore, the partners will transport the gas produced by these fields via a 320 km onshore/offshore pipeline to the plant site.
Total operates the Elk and Antelope onshore fields and is the largest shareholder of the PRL-15 permit with a 31.1% interest, alongside partners ExxonMobil (28.3%) and Oil Search (17.7%), post the state back-in right of 22.5%.