US energy giant ExxonMobil is the latest international firm to join QatarEnergy's massive LNG expansion project, which will boost Qatar's LNG export capacity by 32 million tons per annum.
ExxonMobil is the fourth partner to join the $28.75 billion North Field East (NFE) expansion project after France's TotalEnergies, Italy's Eni, and compatriot ConocoPhillips.
Qatar's energy minister and chief executive of QatarEnergy, Saad Sherida Al-Kaabi, and Darren Woods, CEO of ExxonMobil, signed the partnership agreement for the creation of the new joint venture company during an official ceremony on Tuesday, according to a statement by ExxonMobil.
QatarEnergy will hold a 75 percent interest while ConocoPhillips will hold the remaining 25 percent interest in the JV.
The JV will own 25 percent of the entire NFE project, according to ExxonMobil.
This means that ExxonMobil will have a 6.25 percent stake in the project, such as TotalEnergies, while Eni and ConocoPhillips will hold 3.12 percent each.
ExxonMobil has had a presence in Qatar since 1955 and long supported the development of the country's LNG industry and energy sector.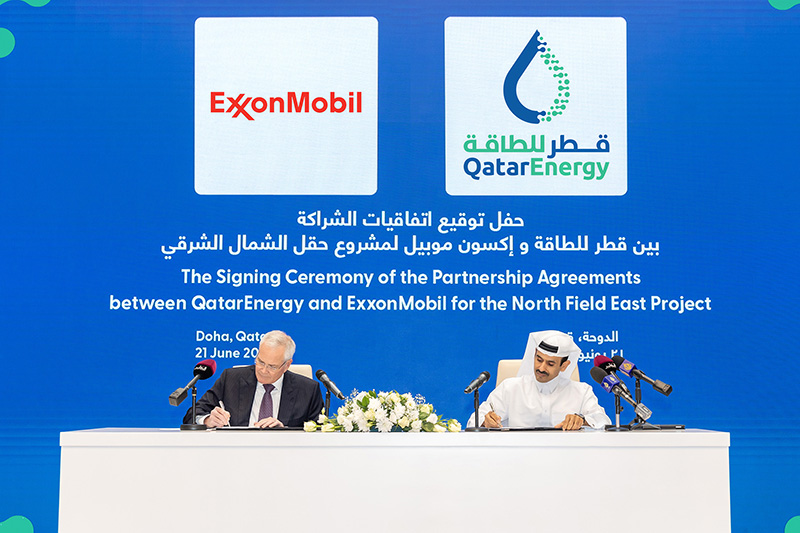 In February last year, QatarEnergy took a final investment decision on the $28.75 billion NFE project to boost Qatar's annual LNG capacity from 77 million tons to 110 million tons.
The state-owned firm is developing a second phase to further boost capacity to 126 Mtpa by 2027 as well as additional expansions.
QatarEnergy and its unit Qatargas are also working on a giant fleet of LNG carriers to support this expansion and the firms already completed the first contracts in China and South Korea, with many more to come.