London-based small-scale player Avenir LNG has taken delivery of a 7,500-cbm liquefied natural gas bunkering and supply vessel from China's CIMC SOE.
Chief executive Peter Mackey said in a social media post the firm welcomed the dual-purpose, small-scale vessel Avenir Aspiration on Friday.
It is the third ship in Avenir's fleet and the first out of two 7,500-cbm ships on order at the Chinese yard.
Besides these 7,500-cbm ships, Avenir also has two 20,000-cbm vessels on order at CIMC SOE.
Avenir already took delivery of two 7,500-cbm vessels, Avenir Advantage and Avenir Accolade, from Keppel Offshore & Marine's Nantong yard.
The newly delivered Avenir Aspiration will serve the company's Higas terminal located on the Italian island of Sardinia.
Avenir said in August it was in advanced talks to secure work for the next three ships in the company's newbuilding program.
This included securing more work for Avenir Aspiration despite the fact the vessel would serve the Italian facility.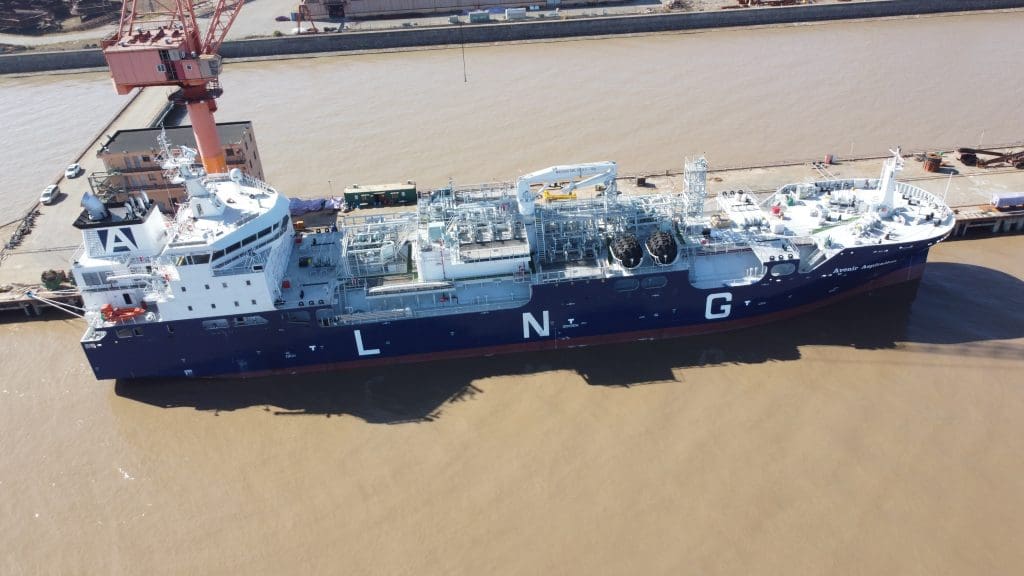 LNG bunkering services for "multiple customers"
Besides serving Higas, the vessel would provide LNG bunkering services via ship-to-ship transfer to multiple customers throughout the Mediterranean, Avenir said in a statement later on Friday.
It would provide "critical infrastructure in key ports across the Mediterranean to support the growth of LNG as a marine fuel and help substantially reduce CO2, NOx and SOx emissions in the region."
"The Aspiration is the final step in delivering a fully owned and operated small-scale LNG supply chain dedicated to serving our customers across the island of Sardinia," Mackey said.
"We have made significant investments in LNG shipping, terminaling, trucking and satellite plants at our customers sites to ensure we can deliver a clean, affordable and reliable supply of LNG to the island," he said.
The joint venture of Stolt-Nielsen, Hoegh, and Golar plans to take delivery of the 7,500-cbm Avenir Ascension as well as the 20,000-cbm Avenir Allegiance from China's CIMC SOE this year.
Avenir has also one more 20,000-cbm vessel on order at CIMC SOE, but it now aims to take delivery of this vessel named Avenir Achievement in 2022.