China's state-owned energy giant CNOOC has bunkered Matson Navigation's LNG-powered containership, Daniel K. Inouye, for the first time as part of a new deal.
According to a statement by CNOOC Gas & Power issued on November 1, the world's largest LNG bunkering vessel, Hai Yang Shi You 301, delivered liquefied natural gas to the LNG-powered containership.
CNOOC's unit said this delivery is part of the company's first international fixed-term contract for LNG bunkering.
Under this cooperation, CNOOC will fuel Matson's LNG-powered containerships that work on the route between the US West Coast and China with Hai Yang Shi You 301, it said.
Daniel K. Inouye, built in 2018 by US-based Philly Shipyard, is Matson's first retrofitted containership and it features three 1350-cbm type C LNG fuel tanks supplied by Singapore's C-LNG Solutions and MAN's 7S90ME-GI engine.
C-LNG's president Sunny Xu said in a social media post that the bunkering operation of the containership took place at Meishan, Ningbo and included the supply of 759 tons of LNG.
He said that Daniel K. Inouye has been sailing between China and the United States in full gas mode since its delivery and the first few LNG bunkering operations were done by the truck-to-ship method in Los Angeles.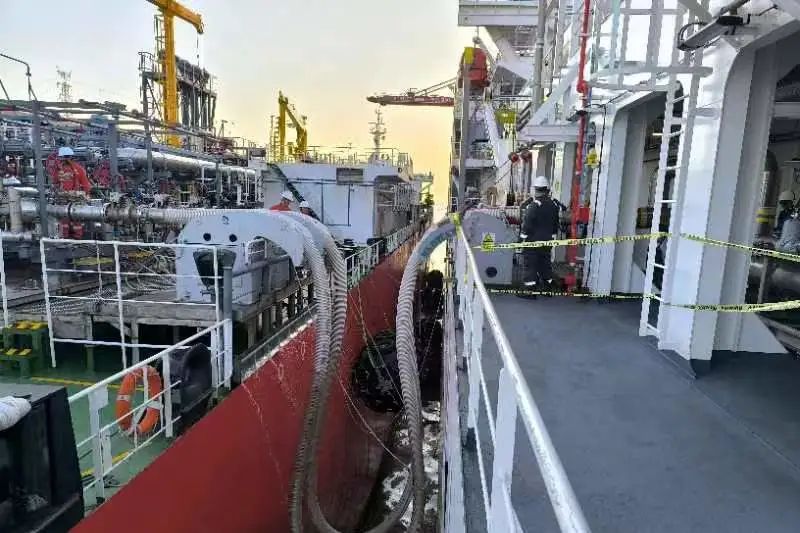 More containerships
Besides this containership, Matson is also retroftting its 2019-built 3,600-teu containership, Kaimana Hila.
The contract with MAN includes converting an MAN B&W S90ME-C10.5 unit to a dual-fuel ME-GI unit capable of running on LNG.
Matson previously said it expects to invest about $35 million in the conversion of Kaimana Hila, the same as for Daniel K. Inouye.
Besides these two vessels, Matson plans to replace the main engine on its containership Manukai with a dual-fuel engine and this will cost about $60 million.
In total, the firm will spend up to $130 million to enable these three ships to use LNG fuel.
Besides these vessels, Matson ordered last year three new 3,600-teu LNG-powered Aloha Class containerships at compatriot Philly Shipyard for about $1 billion.
Matson will take delivery of these Jones Act compliant vessels in the fourth quarter of 2026 with subsequent deliveries in 2027.