China's Hudong-Zhonghua has for the first time launched two large liquefied natural gas carriers on the same day as it works to deliver a record number of LNG carriers this year.
The CSSC-controlled shipbuilder held launching ceremonies for both of the 174,000-cbm LNG carriers on October 15.
Hudong-Zhonghua said the LNG carrier with a hull number H1790A is the first 174,000-cbm vessel it is building for Japan's MOL and China's Cosco Shipping Energy Transportation.
In April last year, state-run LNG giant QatarEnergy signed charter deals for four LNG carriers with MOL, completing the first batch of charter contracts awarded under its massive shipbuilding program.
This launched LNG carrier is first in that batch, while Hudong-Znonghua started building the second vessel in January this year.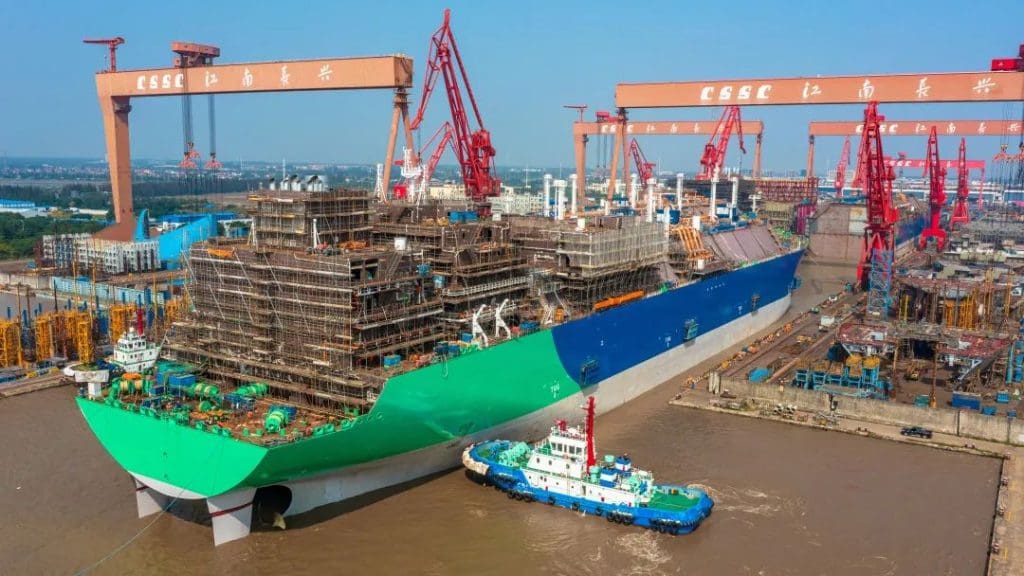 The four vessels, part of Hudong-Znoghua's fifth-generation Changxeng series, will be 299 meters long and 46.4 meters wide.
Also, the LNG carriers will feature a reliquefaction system as well.
Following the order for the first batch of four vessels, MOL signed a long-term charter contract in November last year for three newbuilding LNG carriers with QatarEnergy, boosting the total to seven LNG carriers that will be built at Hudong-Zhonghua under the shipbuilding program.
PCI LNG carrier
Hudong-Zhonghua also on October 15 launched the 174,000-cbm LNG carrier with a hull number H1835A.
This is the fifth LNG carrier the shipbuilder is building for compatriot Cosco Shipping Energy Transportation and PetroChina.
Hudong-Zhonghua held a keel-laying ceremony for this 295 meters long LNG carrier in May.
It delivered the first and the second LNG carrier under the PCI project, Shaolin and Wu Dang, last year, and the third carrier, Kun Lun, in March this year.
The shipbuilder launched the fourth LNG carrier as well.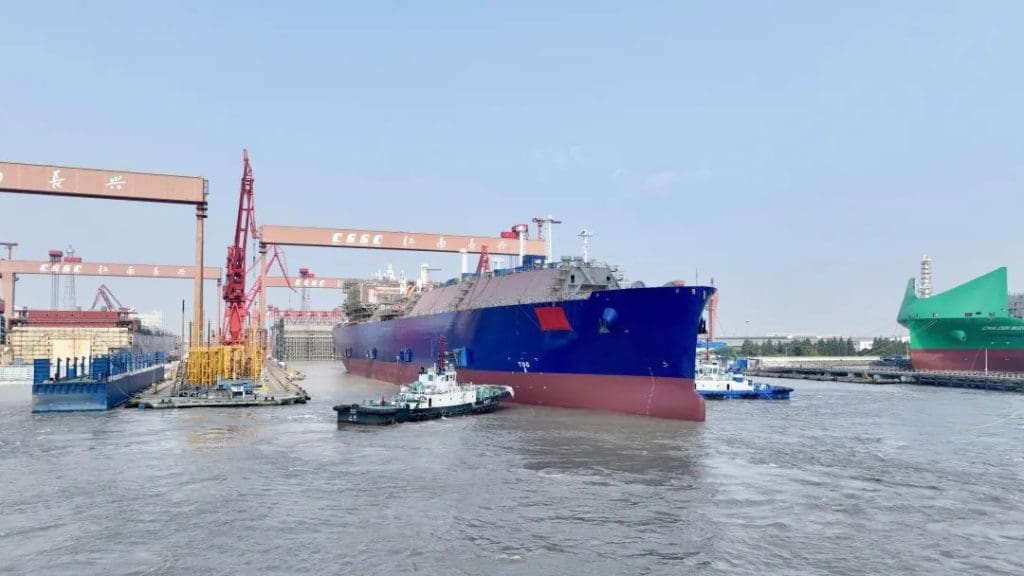 In July, Cosco Shipping Energy Transportation and PetroChina signed a shipbuilding deal with Hudong-Zhonghua for the construction of two more 174,000-cbm LNG carriers.
With this, United Liquefied Gas Shipping, a joint venture in which Cosco Shipping has an 81 percent stake and partner PetroChina holds the rest, ordered in total 8 LNG carriers at the shipbuilder.
These vessels will have WinGD X-DF dual-fuel engines and GTT's NO96 L03+ containment system, such as the previous six ships under the PCI program.
Six LNG carriers
Hudong-Znoghua recently delivered the 174,000-cbm LNG carrier, Wen Cheng, to CSSC Shipping.
Thus is the fourth LNG carrier it has delivered this year as it works to double its LNG shipbuilding capacity.
Hudong-Zhonghua confirmed it plans to deliver two more LNG vessels by the end of this year for a total of six ships, setting a new record for the number of LNG carriers delivered in a year.
At present, there are 12 LNG vessels under construction at the yard, Hudong-Zhonghua said.