China's Nantong CIMC Sinopacific Offshore & Engineering has launched CNOOC's 12,000-cbm liquefied natural gas (LNG) bunkering vessel.
According to a statement by CIMC SOE, the shipbuilder floated out the vessel with a working name S1066 on August 29.
CIMC SOE is building this vessel for a unit of CNOOC Energy Development and it will be named Hai Yang Shi You 302.
It held a keel-laying ceremony for this vessel on June 30.
The unit of CIMC Enric won this contract worth about 441 million yuan ($61 million) in December 2021.
The CCS-classed 132.9 meters long and 22 meters wide vessel will have a draft of 11.8 meters and will feature two type C tanks each with a capacity of some 6,000 cbm, CIMC SOE said.
After completion in 2024, it will mainly fuel coastal LNG-powered ships, inland river refueling stations, and undertake LNG transfers along the giant Yangtze river, it previously said.
Fratelli Cosulich's vessel
Besides this LNG bunkering ship, CIMC SOE is working to deliver the first LNG bunkering vessel to Italian shipping group Fratelli Cosulich next month.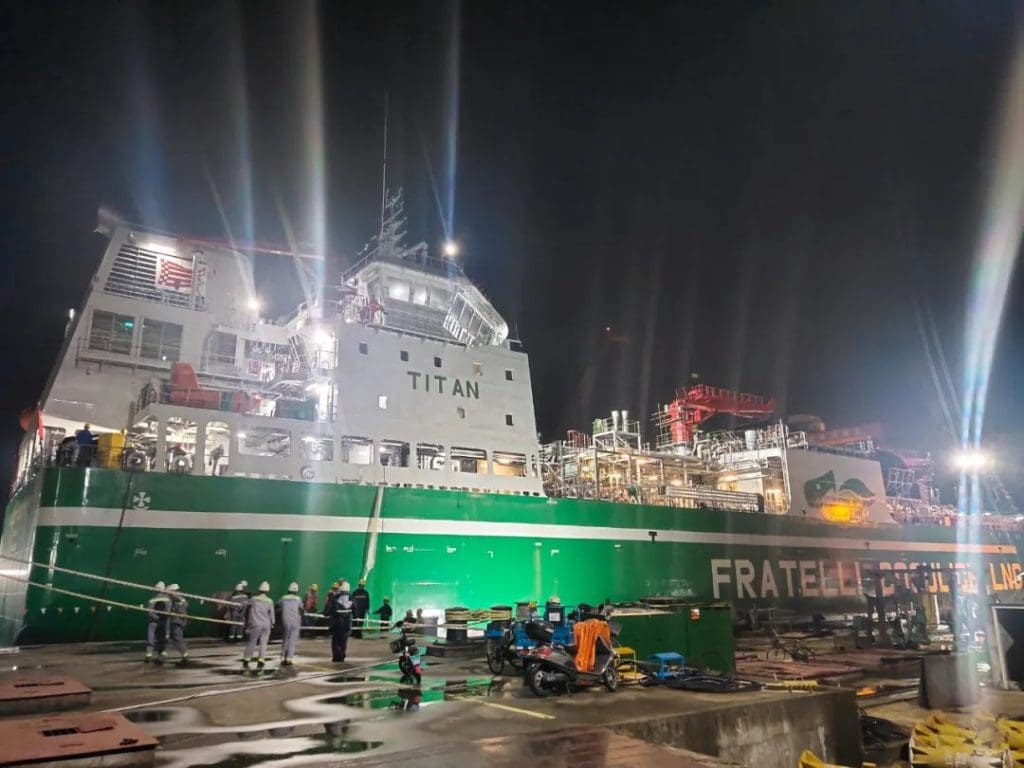 The 5,300-dwt dual-fueled LNG bunkering vessel, Alice Cosulich, completed its sea trials earlier this month.
CIMC SOE said in the statement that the vessel has entered the dry dock again for further paint work ahead of its delivery to the owner.
The shipbuilder completed the float out of CNOOC's LNG bunkering vessels and the docking of this ship at the same time, for the first time in its history, it said.
This is the first of two sister vessels CIMC SOE is building for Fratelli Cosulich and it launched the ship in March.
Following delivery, Alice Cosulich will serve a charter deal Fratelli Cosulich signed with Dutch LNG supplier Titan.
This 113 meters long vessel with a capacity of 8,200 cbm of LNG and 500 cbm of MGO is expected to start operating in Europe in the fourth quarter of this year.