Italian shipping group Fratelli Cosulich has received a loan from a consortium of banks to partly fund the construction of its LNG bunkering vessel under construction in China.
The loan is worth 29.5 million euros ($29.4 million), according to a statement by Watson Farley & Williams (WFW), who advised the lenders.
WFW said the loan would cover about 70 percent of the construction costs of the newbuild.
Lenders comprising Credit Agricole Italia (agent bank), UniCredit, Cassa Depositi e Prestiti (CDP), and Banco BPM, backed by Italian ECA SACE, granted the loan to Fratelli Cosulich LNG2, it said.
The name of the Fratelli Cosulich unit suggests that the loan could go for the construction of the second LNG bunkering vessel.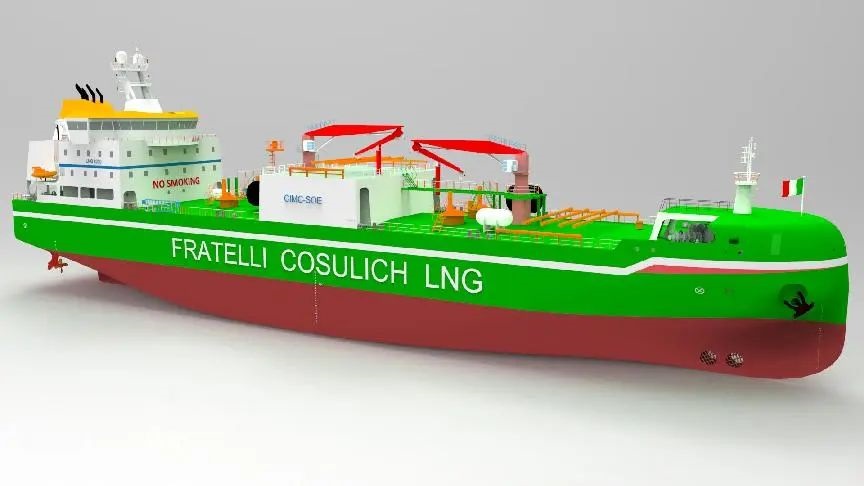 In August, CIMC SOE held a keel-laying ceremony for the first out of two of these 8,200-cbm LNG bunkering ships.
Fratelli Cosulich placed the order for this 5,300-dwt dual-fueled vessel at CIMC SOE in May last year.
In addition to this ship, Fratelli Cosulich exercised an option for the second LNG bunkering vessel last year as well.
The Italian firm previously said it would invest about $45 million in the first LNG bunkering vessel, but it also said it would receive a grant of about $5.2 million from the European Union under the Connecting Europe Facility (CEF) program.
Fratelli Cosulich plans to take delivery of the first vessel in 2023, followed by the second ship in 2024.
Besides these LNG bunkering vessels, Fratelli Cosulich is looking to order one ammonia bunkering vessel at CIMC SOE as well.