State-owned QatarEnergy and Italy's Eni signed a 27-year sale and purchase deal for the supply of liquefied natural gas (LNG) from Qatar to Italy.
Qatar's energy minister and chief executive of QatarEnergy, Saad Sherida Al-Kaabi, and Claudio Descalzi, CEO of Eni, signed the SPA during a ceremony in Doha, according to a statement by QatarEnergy issued on Monday.
Under the deal, Eni will receive up to 1 mtpa, or up to 1.5 billion cubic meters per year, from the joint venture between QatarEnergy and Eni that holds an interest in Qatar's North Field East (NFE) expansion project.
Eni is a partner in the 32 mtpa NFE expansion project with a 3.125 percent share.
The volumes will be supplied to the receiving terminal FSRU Italia, currently located in Piombino, Italy, with expected deliveries starting from 2026 with a duration of 27 years.
Eni said in a separate statement the LNG supply contract will contribute to Italy's security of supply through the diversification of its supply sources.
The Italian firm is already importing in Europe 2.9 bcm per year from Qatar since 2007 under a long-term supply agreement.
Third European LNG supply deal in two weeks
QatarEnergy and UK-based Shell recently signed two long-term LNG sale and purchase deals for the supply of up to 3.5 mtpa of LNG from Qatar to the Netherlands for a period of 27 years.
Prior to that, QatarEnergy also signed two deals with TotalEnergies for up to 3.5 mtpa and a period of 27 years. These supplies are intended for the Fos Cavaou LNG receiving terminal in southern France.
Both Shell and TotalEnergies are partners in the giant Qatari LNG expansion project.
Together, NFE and NFS form the wider North Field expansion project to increase LNG production from the North Field, adding 48 mtpa to Qatar's export capacity and bringing it to 126 mtpa.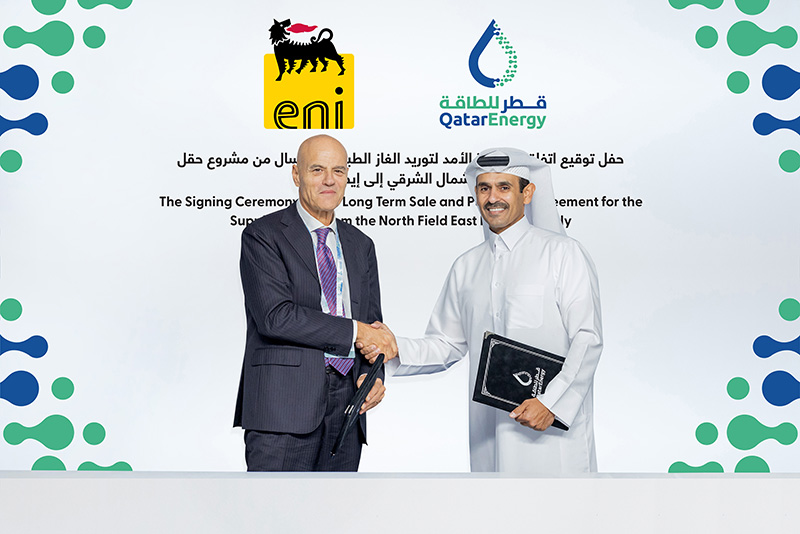 Commitment to European markets
Al-Kaabi said QatarEnergy's partnership with Eni "has borne fruitful results including LNG deliveries through the Fluxys LNG terminal in Belgium's Zeebrugge port and upstream exploration projects in various locations around the world."
He said this agreement further builds on Eni's first entry in the upstream sector in Qatar through "our partnership in the historic North Field East expansion project."
"Together, we will continue to demonstrate commitment to the European markets in general, and to the Italian market in particular. Since 2009, Qatari LNG has been arriving at the Adriatic LNG terminal in the northern Adriatic to meet more than 10 percent of Italy's natural gas requirements," Al-Kaabi said.
More LNG deals expected
QatarEnergy recently officially started building its North Field expansion project.
Descalzi and the CEOs and senior executives of QatarEnergy's other partners in the expansion project attended the event.
Besides Shell, TotalEnergies, and Eni, QatarEnergy's partners in the project are ConocoPhillips, ExxonMobil, Sinopec, and CNPC.
Prior to these three deals, QatarEnergy signed huge LNG supply deals with China's CNPC and Sinopec.
These deals are for 27 years and 4 mtpa of LNG.
QatarEnergy also signed a 15-year deal to supply LNG to Bangladesh's state-owned Petrobangla, and it signed a 15-year deal with US energy firm ConocoPhillips to supply Germany with LNG.
The firm is expected to announce additional LNG supply deals by the end of this year.