European network of liquefied natural gas (LNG) fueling stations for vehicles has reached 700 stations, according to Gmobility.
Besides 700 LNG stations, there are 4175 CNG fueling stations for vehicles in Europe, data by the Brussels-based association shows.
In February last year, the association, previously known as NGVA Europe, announced that the network reached 500 LNG stations, doubling its size in two years.
The network hit the number of 600 stations later the same year.
Germany continues to be the leader with 183 LNG stations for vehicles, followed by Italy with 143 stations, the data shows.
Combined, these two countries host almost half of all the LNG stations in Europe.
Furthermore, Spain has 97 LNG filling stations, France 79, the Netherlands 36, Sweden 30, Belgium 26, Poland 24, Finland 14, and the UK 14.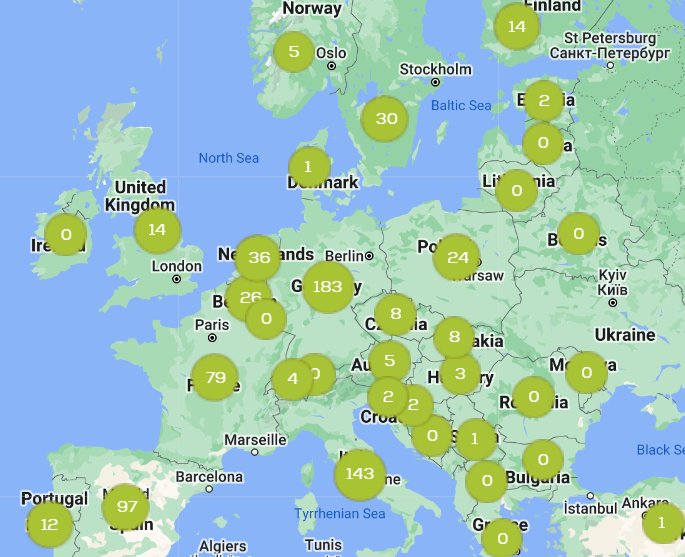 Bio-LNG on the rise
Besides LNG, a growing number of these stations also offers bio-LNG produced from organic waste as more capacity is available to the market.
There were many moves in the European bio-LNG industry this year.
Last week, UK's RenEco and Dutch tech firm Nordsol announced that they are planning to launch what they say is Britain's first bio-LNG production plant in the first quarter of 2024.
Nordsol already operates the bio-LNG plant in Amsterdam Westpoort. The company and its partners Shell and Renewi officially launched the first Dutch bio-LNG plant on October 18, 2021, followed by the start of commercial operations later the same month.
Shell recently launched its 37th LNG station in Germany and is building what it says is the largest bio-LNG production plant in Germany at its Rheinland refinery near the German city of Cologne.
Once online later this year, the facility will have the capacity to produce 100,000 tons of bio-LNG per year.
On the other hand, Sweden-based bio-LNG producer Biokraft International, previously known as Scandinavian Biogas, recently launched what it says is the world's largest biomethane liquefaction unit at its biogas plant in Sodertorn.
The unit has a production capacity of 50 tons of bio-LNG per day.
Biokraft intends to expand its current production capacity to at least 3 TWh by 2030.
The company has a supply deal with German fueling station operator Alternoil, as well as a multi-year deal to supply bio-LNG to the transport sector in Sweden and the Nordic region.
Alternoil is increasingly offering bio-LNG to its customers and its large network includes 53 LNG stations, according to its website.
Earlier this year, Germany's REEFUELERY, a joint venture of Erdgas Südwest and avanca, officially started building its bio-LNG production plant in Burghaun.
The plant with with a capacity of up to 180 tons of bio-LNG per day will also supply Alternoil's network of stations.
Finland's LNG and bio-LNG supplier Gasum is also boosting its production of biogas to supply its network of stations in the Nordic region, while Italian engineering firm Ecospray has won a new contract from Germany's Ruhe Group to build more bio-LNG production plants.
Germany's EnviTec Biogas also completed its Güstrow bio-LNG plant and this facility will produce about or 9,600 tons of bio-LNG per year for heavy-duty transport vehicles.