Golar LNG has exercised its option to acquire the 148,000-cbm Moss-type carrier, Fuji LNG, which it aims to convert to a floating LNG producer.
The firm said in February that it secured an option to acquire a Moss-type vessel built in 2004 in Japan, saying the vessel would be used for a MKII FLNG conversion.
Golar revealed in its first-quarter report issued on Tuesday it has exercised its option to acquire the 148,000-cbm, Fuji LNG.
Greece-based shipping firm TMS Cardiff Gas owns this LNG carrier.
Of the $73 million purchase price balance for Fuji LNG, $11 million will be paid in the second quarter of 2023 with the remainder in early 2024, when Golar will take delivery of the vessel, it said.
The LNG firm led by Tor Olav Trøim also confirmed it sold its 1977-built LNG carrier, Golar Gandria.
"As a result of increasing momentum for new FLNG opportunities, Golar high-graded its FLNG conversion candidate by selling the Gandria and exercising its option to acquire the 148,000-cbm moss design carrier Fuji LNG targeted for the MKII FLNG conversion project," it said.
Sale of Gandria for net proceeds of $15 million remains subject to the satisfaction of customary closing condition, while Golar expects to complete the transaction in the second half of 2023.
Focus on EPC contract and financing
Golar LNG said in November last year it ordered long-lead items for its third FLNG conversion project on the back of a growing opportunity set for new FLNG growth projects.
The firm placed orders for items targeted for a 3.5 mtpa Mark II FLNG, that can also be interchangeably used on its other two FLNG designs.
With key long-lead items on order, focus is now on a yard EPC contract and financing, the firm said on Tuesday.
"A final investment decision on the MKII project is linked to securing attractive finance and further visibility on a charter, with strong progress on both fronts during the quarter," Golar said.
Nigerian deal
State-run Nigerian National Petroleum Corp said in April it is joining forces with Golar to install a floating LNG production unit in Nigeria.
Howevher, the firm did not provide any additional information regarding the project.
Golar said in its first-quarter results statement that, following the signing of the MoU, both parties have allocated "significant" resources to initially develop a named gas field for a potential FLNG project.
According to the floating LNG player, material technical and commercial progress has been made.
The memorandum has a 5-year duration, with both parties' ambition to explore potential for multiple FLNG projects to be deployed on proven stranded and associated gas fields in Nigeria, it said.
Nigeria's gas specifications and met-ocean conditions are ideally suited to Golar's FLNG solutions, the firm said.
FLNG Hilli
Golar owns the 2.4 mtpa Hilli FLNG located in Cameroon and the 2.5 mtpa Gimi FLNG currently under conversion at Singapore's Keppel Shipyard.
The firm said in the report that FLNG Hilli maintained its strong operational performance with 100 percent economic uptime throughout the first quarter.
Golar noted that recent months have seen a "significant increase in interest and momentum" for re-contracting alternatives for FLNG Hilli.
"Several promising projects that have more attractive economics than the current contract are now being discussed," it said.
"Golar continues to target commercial structures aligned with gas resource owners, focusing on attractive break-even production costs relative to competing global LNG export projects, with upside in commodity price linkage," it said.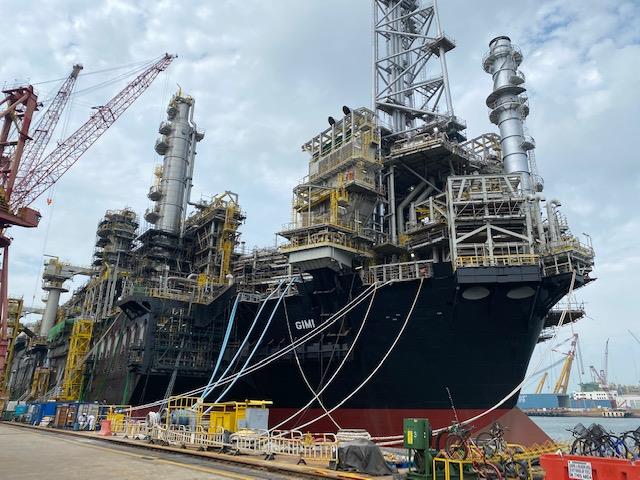 Gimi delay
Gimi will serve BP's Tortue FLNG project offshore Mauritania and Senegal under a 20-year charter deal.
According to Golar, the FLNG is now 94 percent technically complete.
However, the the yard departure date for the FLNG has been postponed from the first half of this year to the third quarter of this year to "allow for vessel completion and testing and a greater proportion of commissioning work to be performed in Singapore where requisite skills and resources are more accessible," Golar said.
Golar said that the updated sail away timing is not expected to impact first feed gas on the Tortue project, expected by the end of this year.
As a result of project delays, pre-commissioning contractual cash flows under the lease and operate agreement (LOA) have started, it said.
A LOA contract interpretation dispute regarding parts of these pre-commissioning contractual cash flows currently exists between Golar and BP, regarding payments due from BP to Golar as a result of the delays previously announced in 2020 related to force majeure claims.
"The dispute does not impact wider execution of the 20-year project that is expected to unlock around $3 billion of adjusted Ebitda backlog to Golar, equivalent to annual adjusted Ebitda of around $151 million," Golar said.
Net loss
Golar said its adjusted Ebitda reached $84 million in the first quarter, down 6 percent when compared to the same quarter last year.
The firm reported a net loss attributable to Golar of $102 million, inclusive of non-cash mark-to-market charges of $188 million.
As of March 31, 2023, total Golar cash was $1 billion, comprising of $889 million of cash and cash equivalents and $113 million of restricted cash.
Based on "strong" balance sheet position and a "solid" operational cash flow outlook, Golar reinstated quarterly dividend and will distribute $0.25 per share for the first quarter, it said.