Germany's first FSRU-based import facility in Wilhelmshaven, operated by Uniper, has received its second liquefied natural gas (LNG) tanker.
The 2021-built 174,000-cbm LNG carrier, Maran Gas Ithaca, owned by Maran Gas and chartered by Uniper, arrived at the FSRU in Wilhelmshaven on Monday, according to its AIS data provided by VesselsValue.
Maran Gas Ithaca delivered a cargo to the 170,000-cbm FSRU Hoegh Esperanza, owned by Norway's Hoegh LNG, from Cheniere's Sabine Pass LNG terminal in Louisiana, the data shows.
The prior cargo onboard the 174,000-cbm LNG carrier, Maria Energy, also arrived from Louisiana but from Venture Global LNG's Calcasieu Pass terminal. This cargo was used for the commissioning process.
Hoegh Esperanza arrived in Wilhelmshaven on December 15 while Uniper and its partners launched the facility two days later.
Prior to arriving in Wilhelmshaven, the FSRU took a cargo in Spain at the Saggas regasification plant in Sagunto operated by Enagas as well.
The vessel started supplying this gas to the German grid on December 21.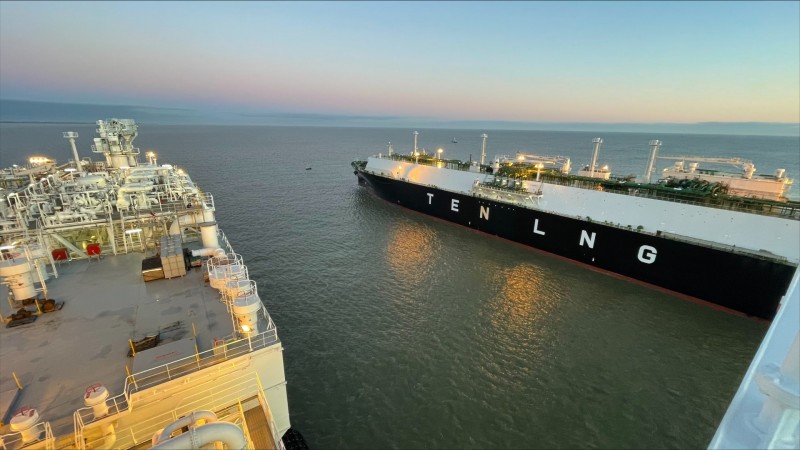 Start of commercial operations
Uniper previously said that it planned to start commercial operations at Germany' first FSRU-based LNG import facility in mid-January.
The firm operates the FSRU-based facility on behalf of the German government, Niedersachsen Ports performed the works on the port infrastructure, such as the jetty, while OGE was responsible for the 26 kilometers long connecting pipeline.
The Wilhelmshaven facility is the first of six FSRU-based terminal in Germany that are expected to go online by the end of 2023.
Moreover, the government backed the charter of five FSRUs while Deutsche ReGas built the first private FSRU-based facility in Lubmin.
Deutsche Regas officially launched its FSRU-based LNG import terminal in Lubmin, Germany's second such facility, on Saturday.
The next in line is the new Elbhafen LNG import terminal in Brunsbuettel, led by RWE.