The world's largest LNG bunkering vessel, Hai Gang Wei Lai, has completed several firsts when it bunkered the containership CMA CGM Symi in China on Tuesday.
The 20,000-cbm Hai Gang Wei Lai, previously known as Avenir Allegiance, delivered about 7,000 cbm of LNG during the operation in Yangshan port to the 2022-built containership owned by EPS and chartered by CMA CGM.
Shanghai SIPG Energy Service Co., a new unit of China's terminal operator Shanghai International Port (SIPG) and Shenergy, said in a statement this marked the first bunkering operation as part of a recently signed deal.
Besides this, this operation also marked the first ship-to-ship LNG bunkering to a large containership in the Shanghai port and the first such operation for any port in China, according to Shanghai Maritime Safety Administration.
CMA CGM also confirmed the first SIMOPS LNG bunkering operation in a statement later on Tuesday.
The French firm also said it is the first shipping line to bunker LNG in China, and the first to offer full LNG-fueled container service between China and the US West Coast.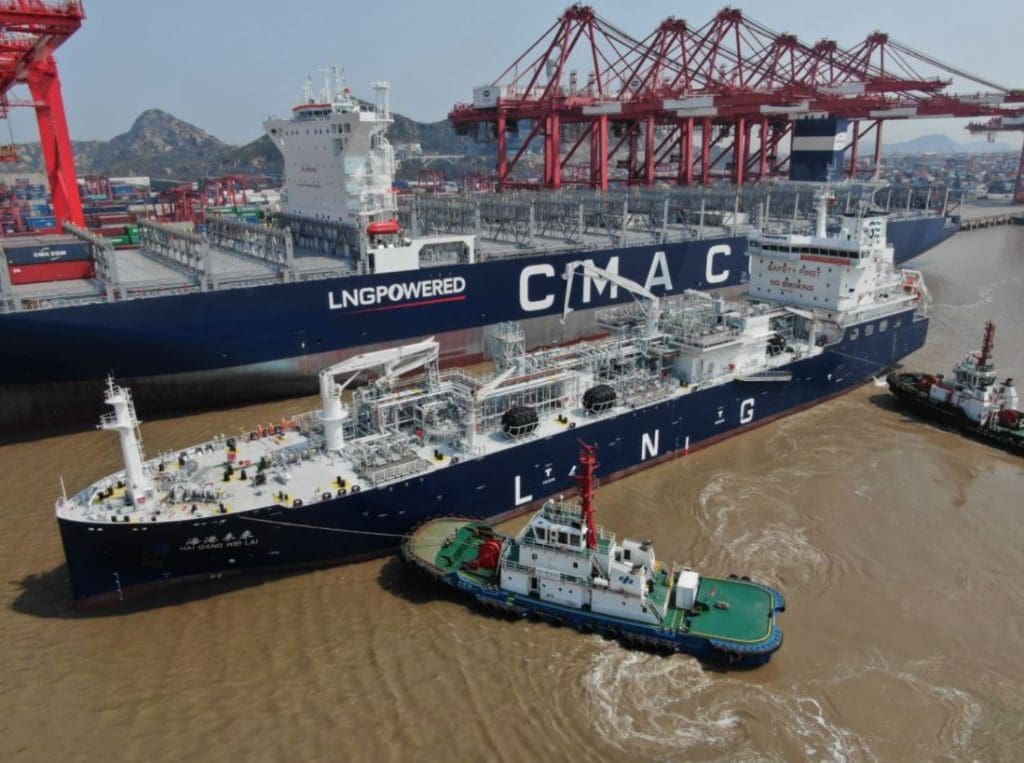 10-year deal
In January, SIPG and CMA CGM signed a 10-year bunkering deal under which SIPG will fuel CMA CGM's 15,000-teu vessels with the new LNG bunkering vessel in Yangshan port.
CMA CGM's vessels in question will serve its Pearl River Express (PRX) line, which sails from China to the Port of Los Angeles.
Shanghai SIPG Energy Service will be in charge for the LNG bunkering operations and the firm also bought the large bunkering vessel from London-based Avenir.
Avenir, a joint venture consisting of Stolt-Nielsen, Hoegh and Golar, took delivery of the world's largest LNG bunkering ship from China's CIMC SOE in December.
Following the sale to the Chinese JV and name change, the vessel took a cargo at Shenergy's Yangshan LNG terminal.
It will regularly load at this facility for onward distribution to CMA CGM's vessels.