Spark Commodities reported a further drop in its Pacific LNG spot freight rates, while the Atlantic rates increased slightly this week.
Last week, the Pacific LNG freight rates for 160,000-cbm TFDE carriers reached their lowest level this year at $59,500/day.
"With LNG freight softening further in the Pacific basin this week, the spread between spot rates in the Pacific vs Atlantic has fallen to $11,750/day, the smallest spread since since early February," Spark said on Thursday.
"The rate on the Pacific Spark25S route fell $4,250/day week-on-week this week to reach $55.25k/day, whilst the Atlantic Spark30S route rose $750/day week-on-week to reach $43,500/day," the company said.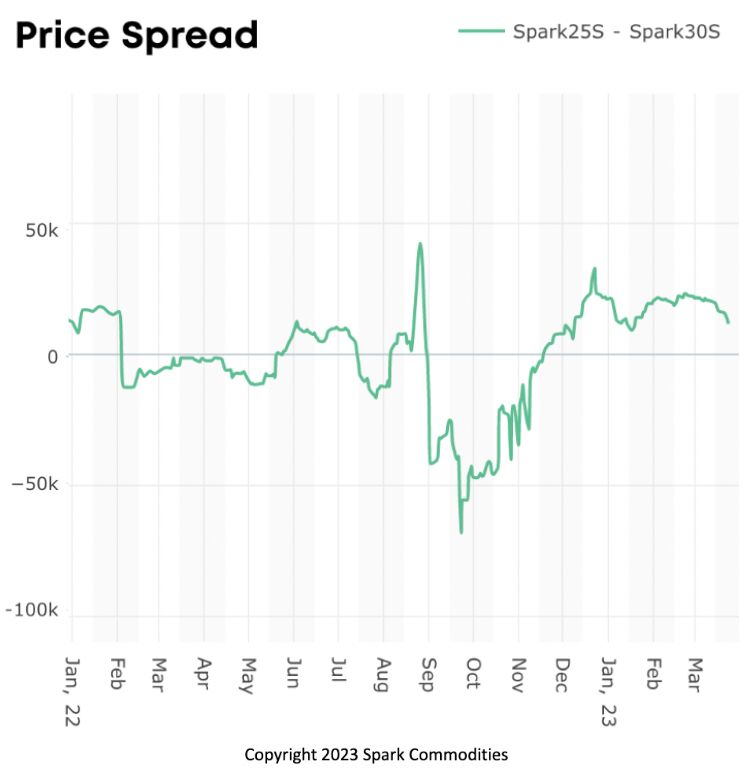 Both the Atlantic and Pacific rates for 160,000-cbm TFDE carriers fell below $100,000 per day in January, continuing their drop since posting record highs in October and November last year.
The Atlantic LNG freight rates dropped to $51,250/day on March 21 due to high vessel availability and after that they fell below $50,000/day to reach lowest level this year last week.
As per prices in Europe and Asia, both the Dutch TTF and Asian LNG prices dropped considerably this year when compared to 2022.
The TTF price for May settled at $13.054/MMBtu on Thursday, while the JKM spot LNG price for June settled at $12.235/MMBtu.