Spark Commodities reported on Tuesday a drop in its Atlantic LNG freight rates due to high vessel availability.
"After holding fairly steady over the last two months, Spark30S Atlantic LNG freight rates slid further this week, falling to their lowest level this year at $51,250/day," Spark said.
Both the Atlantic and Pacific rates for 160,000-cbm TFDE carriers fell below $100,000 per day in January, continuing their drop since posting record highs in October and November last year.
The downward trend continued in the beginning of February, but the rates slowly picked up in the second half of February.
Last Friday, the Atlantic rates were at $55,250/day, while the Pacific rates were at $77,750/day.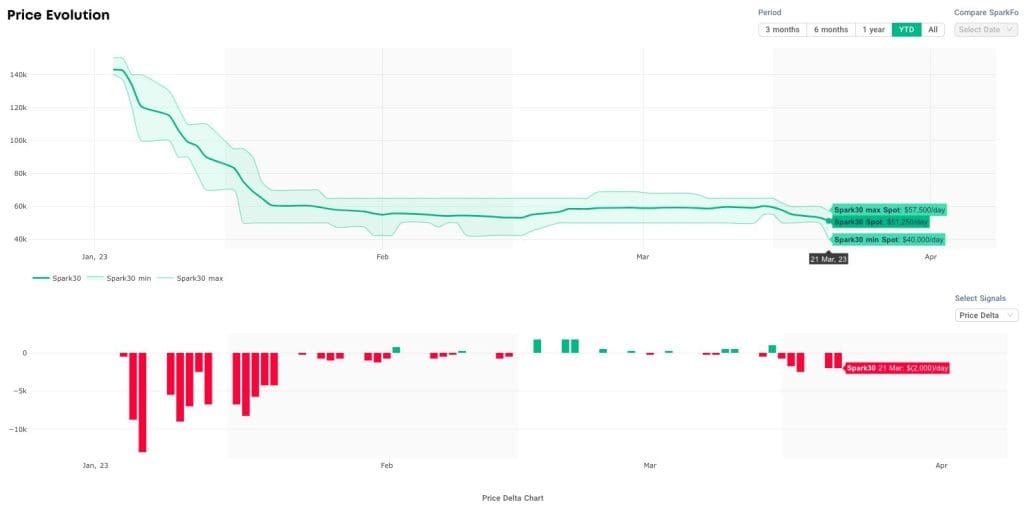 Earlier this month, Freeport LNG received regulatory approval to restart operations of Train 1 at its three-train 15 mtpa liquefaction plant in Texas, adding to Freeport LNG's Trains 2 and 3.
Prior to the shutdown on June 8 last year, most of the cargoes produced at the Freeport LNG plant in 2022 landed in Europe. This is the case with other US LNG terminals as well.
This year, European terminals continue to receive most of the volumes produced at US liquefaction terminals.
Shell recently said that Europe increased its LNG imports by 60 percent to 121 million tonnes in 2022.
However, Europe's increased need for LNG looks set to intensify competition with Asia for limited new supply available over the next two years and may dominate LNG trade over the longer term, according to Shell.
As per prices in Europe and Asia, the TTF price for April settled at $12.271/MMBtu on Monday, while the JKM spot LNG price for May settled at $13.155/MMBtu.
Spot LNG prices in Asia dropped considerably this year from record highs in 2022, sparking interest from buyers from China, India, Bangladesh, and other countries to purchase spot LNG supplies.