QatarEnergy has selected LNG giant Shell to participate in the next wave of Qatar's massive LNG expansions.
Shell said on Sunday in a statement it would obtain a 9.375 percent participating interest in the 16 mtpa North Field South project (NFS), out of a total 25 percent interest available for international partners
QatarEnergy will hold the remaining 75 percent.
Shell is the second partner to join the project after France's TotalEnergies, who also took a 9.375 percent participating interest in the NFS project.
Previously, both Shell and TotalEnergies took a 6.25 percent stake in the $28.75 billion North Field East (NFE) expansion project, the first and larger phase of QatarEnergy's giant LNG expansion.
Besides TotalEnergies and Shell, QatarEnergy previously selected Italy's Eni, and US firms ConocoPhillips and ExxonMobil to join the NFE project.
Together, NFE and NFS form the wider North Field Expansion project to increase LNG production from the North Field, adding about 48 mtpa to Qatar's export capacity and bringing it to 126 mtpa by 2027.
"I am delighted that Shell's strategic partnership with QatarEnergy is further deepened through our participation in the North Field South project," Ben van Beurden, CEO of Shell said at the signing ceremony.
"LNG has a key role in ensuring energy system reliability and our investments with QatarEnergy will support the energy transition and energy security, two of the most fundamental challenges the world faces today," van Beurden said.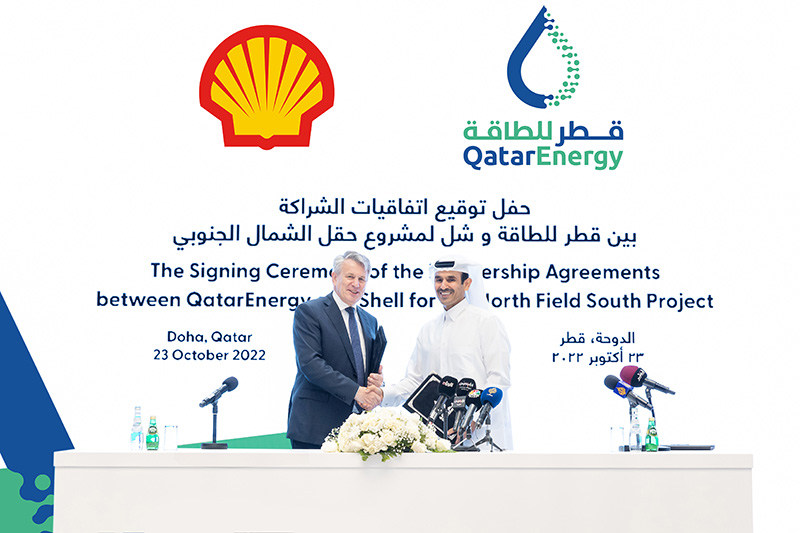 QatarEnergy to announce third partner
QatarEnergy recently revealed that new partners would join TotalEnergies to take a stake in the NFS project.
The firm said in a separate statement on Sunday it would announce the third NFS partner "in due course".
"The new LNG volumes, which Qatar will bring to the market, come at a time when natural gas assumes greater importance in light of recent geopolitical turmoil, and amidst the dire need for cleaner energy to meet global environmental objectives," Qatar's energy minister and chief executive of QatarEnergy, Saad Sherida Al-Kaabi, said during the signing ceremony with Shell.
Al-Kaabi welcomed Shell to the NFS expansion project and thanked van Beurden, who is retiring at the end of the year, for his "distinguished role in advancing our partnership to an unprecedent level and for a relationship that will extend for decades."
(Article updated to include a statement by QatarEnergy.)