China's state-controlled energy giant Sinopec has signed a deal with LNG giant QatarEnergy to buy a stake in the North Field East project.
The two firms signed the definitive partnership agreement on Wednesday in Doha, according to a statement by QatarEnergy.
Under the deal, QatarEnergy will transfer to Sinopec a 5 percent interest in the equivalent of one NFE train with a capacity of 8 mtpa.
The project will have in total four large trains so Sinopec will take 1.25 percent of the total project.
This agreement will not affect the participating interests of any of the other shareholders, QatarEnergy said.
This move follows a huge LNG purchase deal the two firms signed last year.
In November last year, QatarEnergy entered into a 27-year deal to supply 4 mtpa per year from the NFE project, starting in 2026, to Sinopec's terminals in China.
It built upon a deal the two firms signed in March 2021. QatarEnergy entered into a 10-year LNG deal with Sinopec and these supplies started in April last year.
Qatar's energy minister and chief executive of QatarEnergy, Saad Sherida Al-Kaabi, said on Wednesday China "is a major driver of the global energy markets as well as being one of the most important gas markets in the world and is a key market for Qatari energy products."
"Today's event underscores QatarEnergy's commitment to deepening its relationships with key LNG consumers, while prioritizing long-term strategic partnerships and alignment with world class partners from China, represented by Sinopec here today," he said.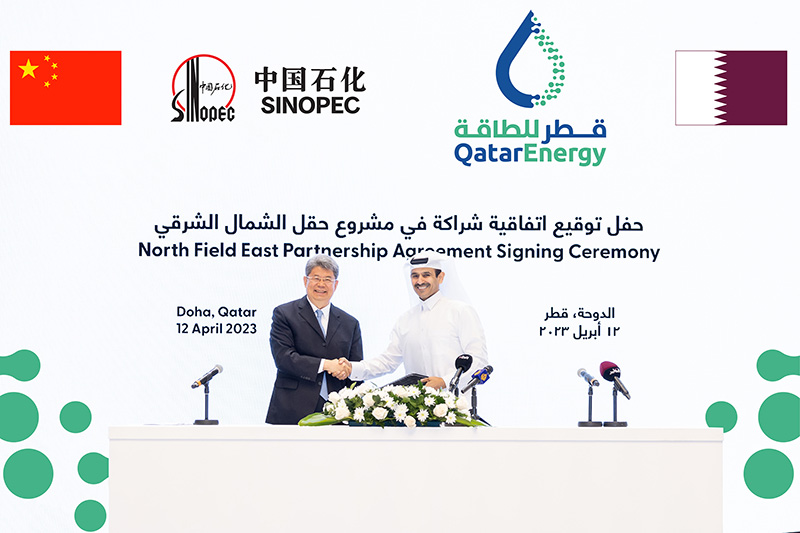 Giant LNG capacity expansion
Previously, UK-based Shell, France's TotalEnergies, Italy's Eni, and US firms ConocoPhillips and ExxonMobil took stakes in the $28.75 billion NFE project which will boost Qatar's LNG export capacity by 32 mtpa.
ConocoPhilips, Shell, as well as TotalEnergies took stakes in the smaller NFS project with a capacity of 16 mtpa.
Together, NFE and NFS form the wider North Field Expansion project to increase LNG production from the North Field, adding about 48 mtpa to Qatar's export capacity and bringing it to 126 mtpa.
QatarEnergy's unit Qatargas currently has an LNG production capacity of 77 mtpa in the giant Ras Laffan complex.
(Updated with a statement by QatarEnergy.)