State-owned LNG giant QatarEnergy has entered into a 15-year deal to supply LNG to Bangladesh's state-owned Petrobangla.
The signing of the long-term sales and purchase agreement took place at QatarEnergy's headquarters in Doha on Thursday.
Under the deal, QatarEnergy's LNG trading arm will deliver about 1.8 million tons of LNG per year to Petrobangla, starting in 2026.
Bangladesh currently imports LNG via its first import facility, Moheshkhali Floating LNG or MLNG, operated by Petrobangla, and via Summit Group's FSRU-based terminal.
Both of these facilities feature Excelerate's FSRUs and the US firm is also developing the Payra project in Bangladesh.
Largest LNG supplier to Bangladesh
Petrobangla already has a 15-year deal with QatarEnergy's unit Qatargas for 2.5 million tons of LNG and this deal started in 2018.
Besides this contract, QatarEnergy entered into a deal with Vitol in 2021 to supply 1.25 million tons per annum of LNG to the latter's final customers in Bangladesh.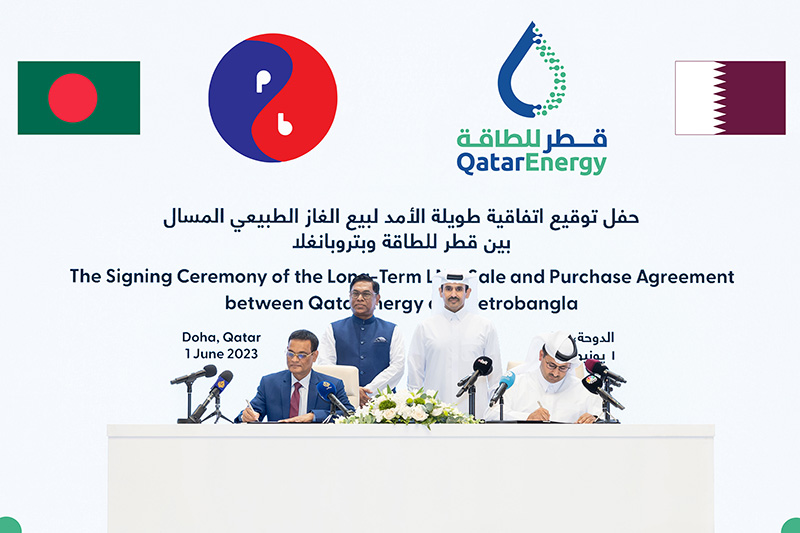 Saad Sherida Al-Kaabi, Qatar's energy minister and CEO of QatarEnergy, and Nasrul Hamid, the state minister for power, energy, and mineral Resources of Bangladesh, attended the SPA signing ceremony.
"Today, we are proud to be the largest LNG supplier to Bangladesh and Petrobangla by a large margin, delivering more than 3.5 million tons per annum from Qatar to Bangladesh," Al-Kaabi said during the ceremony.
"With this new SPA, QatarEnergy reaffirms its position as the LNG supplier of choice for its partners in the South Asia LNG markets," he said.
Boosting Qatar's production to 126 mtpa
This new contract with Petrobangla follows the 27-year deal QatarEnergy signed with China's state-controlled energy giant Sinopec in November last year.
This deal includes the supply of 4 million tonnes and is the first supply deal QatarEnergy announced for the North Field East project. Sinopec also agreed to buy a stake in the NFE project.
Previously, UK-based Shell, France's TotalEnergies, Italy's Eni, and US firms ConocoPhillips and ExxonMobil took stakes in the $28.75 billion NFE project which will boost Qatar's LNG export capacity by 32 mtpa.
ConocoPhilips, Shell, as well as TotalEnergies took stakes in the smaller NFS project with a capacity of 16 mtpa.
Together, NFE and NFS form the wider North Field Expansion project to increase LNG production from the North Field, adding about 48 mtpa to Qatar's export capacity and bringing it to 126 mtpa.
QatarEnergy's unit Qatargas currently has an LNG production capacity of about 77 mtpa in the giant Ras Laffan complex.
(Article updated with a statement by QatarEnergy.)